Digital Trusted Third Party Operator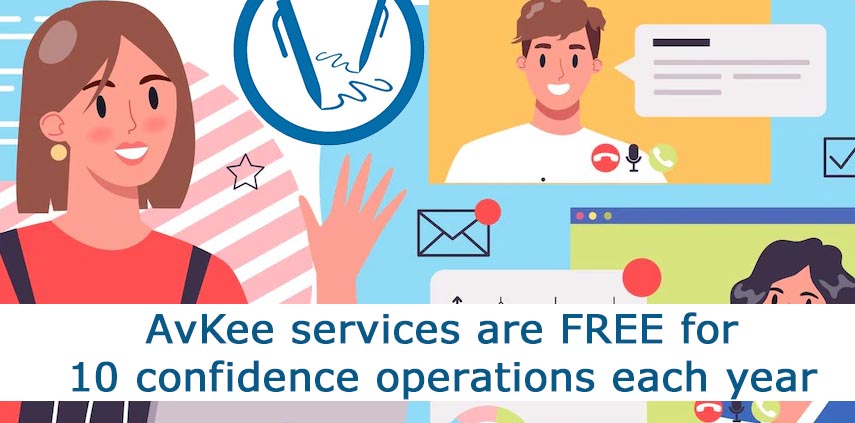 Trust operations are the services offered by DIGIPROOF
DIGIPROOF brings you comfort and security in your daily life, by offering you a wide range, constantly evolving, of high-performance and highly secure digital services..

DIGIPROOF brings together in a single easy-to-use application, all the tools necessary for your personal or professional activities.
When you first create your DIGIPROOF account, we offer you a welcome service pack.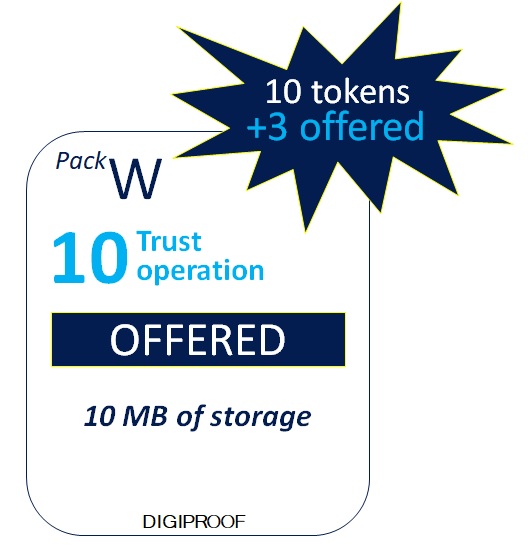 On each anniversary date of the creation of your service pack, the balances are automatically updated to : 10 sealed, 10 MB, 13 tokens,
Here are the main services of DIGIPROOF





Evidence management

There are many situations where you need to prove what you are saying, to resolve a dispute, or simply prove your good faith.

When such a need arises, we are often helpless, because we have not done what is necessary, for lack of knowing how to proceed..

DIGIPROOF seals are the answer!

DIGIPROOF offers you an online seal service that allows you to authenticate, time stamp, geolocateand store in digital safe, all the evidence you might need.

Thanks to its technology, DIGIPROOF delivers certificates with an electronic signature attesting to the recording in blockchains of time-stamped, tamper-proof evidence. These certificates can be produced in court. A sealed document becomes, thanks to the sealing process, tamper-proof.

There are many types of seals suitable for many situations in personal and professional life.






Contract library

We no longer count the number of times contracts are tacitly renewed because we missed the notice to denounce them.

DIGIPROOF brings you a very effective SOLUTION!

DIGIPROOF alerts you

With DIGIPROOF you seal your contracts (timestamp + secure storage) by indicating the reference date, the duration of the contract and the duration of the notice.

With these parameters DIGIPROOF notifies you as soon as necessary, so that you can denounce it in due time if necessary..






Digital signatures

With DIGIPROOF, your sealed documents can be sent in bulk, securely, for grapho-digital signature (the recipient signs with a stylus or with their finger on a smartphone) or electronic signature (if the recipient has a DIGIPROOF account).

Ideal for remote signing of contracts, minutes of general meetings.



Signature circuit

The signature circuit is highly secure, only the recipients can consult and sign the seals sent. DIGIPROOF manages up to 1000 signers per document.

the signatory consults the sealed documents and all the associated certificates before signing. Each recipient receives a certificate attesting to their signature. The sealer has a tamper-proof slip containing all the signatures.




Managing your guarantees

Optimize warranty management for your equipment.

DIGIPROOF notifies you two months before the end of validity of a guarantee, so as to allow you, within the framework of this guarantee (outside DIGIPROOF services), to have your defective device repaired or replaced..

and many other services

With DIGIPROOF, you can, thanks to the digital seal system, protect your ideas, your technical or artistic creations, by copyright; establish tamper-proof photo or video reports; establish geolocation certificates.

You can also send to several people at the same time, highly secure links for file downloads (confidential transfers or large volume file transfers).
By being alerted of an end of warranty, or alerted of the upcoming renewal of a contract; or by being able to prove at any time, in a simple way, a fact that you know or that you have observed, you are protected and more serene.

As the old adage says ''it is by forging that one becomes a blacksmith''; and it is after having created an account and benefiting from the welcome pack that you will be able to discover in detail, the whole range of services useful to your daily life and to your serenity.